The Port Harcourt boy crooner is in the news of assaulting a tanker driver named John Okamgba on Saturday the 22nd of November in Port Harcourt.
The water tanker driver who was recently discharged from the hospital narrated his ordeal to the Civil Rights Activist.
John Okambam, a native of Elele Town in Ikwerre Local Government Area of the state is an employee of Julius Berger Nigeria Limited, claimed that the musician struck him on the head with a traditional staff made of elephant tusk.
The driver narrating his ordeal said, while on duty a private car was parked close to his water filling spot. He tried notifying the driver who refused to wind down. He reportedly bent his head to talk to the driver only to discover it was Duncan Mighty. Before he could say anything Duncan mighty allegedly struck his head with the traditional staff, his face was covered with blood as he didn't know when the singer drove off but he remembered blocking the second strike with his hand.
Confirming the incident one Nwabueze Obodowhuo posted on his social media platform, seeking the intervention of Mr Okambam's employer, Julius Berger.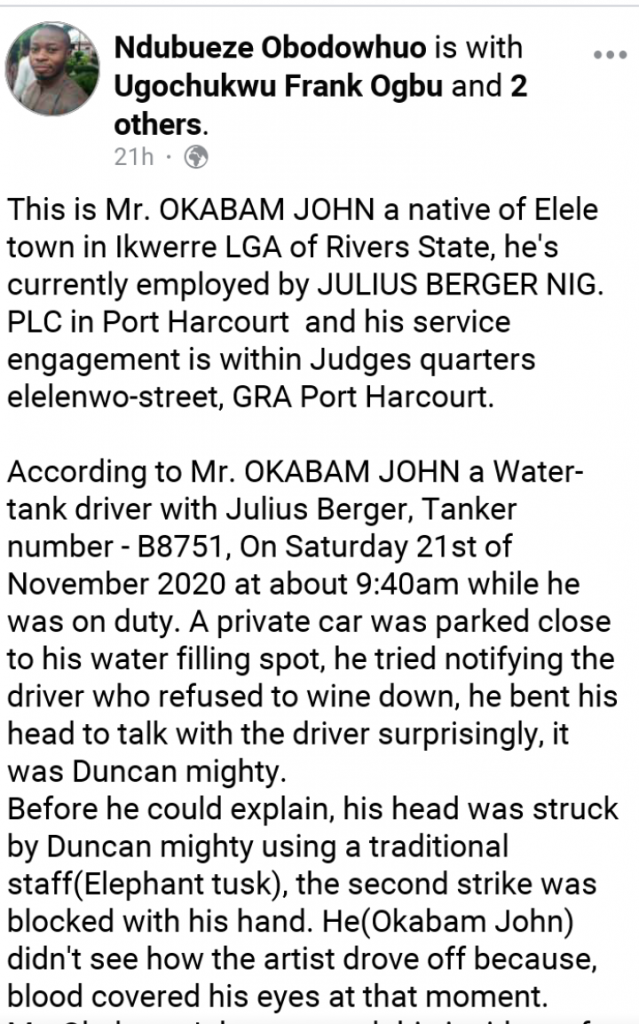 "This is Mr. OKABAM JOHN a native of Elele town in Ikwerre LGA of Rivers State, he's currently employed by JULIUS BERGER NIG.PLC in Port Harcourt and his service engagement is within Judges quarters elelenwo-street, GRA Port Harcourt.
"According to Mr. OKABAM JOHN a Water-tank driver with Julius Berger, Tanker number – B8751, On Saturday 21st of November 2020 at about 9:40am while he was on duty. A private car was parked close to his water filling spot, he tried notifying the driver who refused to wine down, he bent his head to talk with the driver surprisingly, it was Duncan mighty.
"Before he could explain, his head was struck by Duncan mighty using a traditional staff(Elephant tusk), the second strike was blocked with his hand. He(Okabam John) didn't see how the artist drove off because, blood covered his eyes at that moment.
"Mr. Okabam John narrated this incident after being discharged from the hospital. Duncan doesn't show up when he's publicly needed, rather he uses his VIP influence to undo his people. Celebrities should be celebrated by their positivity, their influence shouldn't pose danger to the society rather it should serve as liberation to the people.
"Mr. OKABAM JOHN is calling on the management of Julius Berger, Security Agents and Human Rights Organisations for justice to be done in his case, to avoid a re-occurance." He wrote on his Facebook page.