President Donald Trump has been having issues with Twitter since the beginning of the US election. Twitter restricts most of his tweets.
In an interview granted by a Tweeter spokesperson to Fox Business. "This action is in line with our Civic Integrity Policy and as is standard with this warning, we will significantly restrict engagement on this Tweet."
"Twitter's Civic Integrity Policy states that users most not post or share content that may suppress participation or mislead people about when, where, or how to participate in a Civic process." According to Fox Business.
One of Trump's latest tweet was restricted 5 hours ago.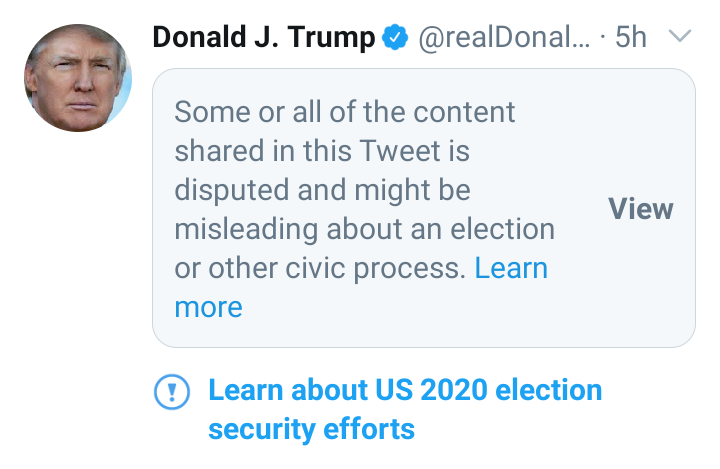 "Some or all of the content shared in this Tweet is disputed and might be misleading about an election or other civic process". This was displayed instead of Trump's Tweet.
Donald Trump had expressed his displeasure in a follow-up Tweet few hours ago.
According to Trump, "Twitter is out of control, made possible through the government gift of Section 230!" He Tweeted 5hours ago.
However, it seems the Vice President of the United States of America, Mark Pence is not a lover of tweeter, as he hardly post on his verified Twitter page. His last post was a retweet 4days ago, which had nothing to do with the ongoing US election.
Vice President, Mark Pence's Tweet 4days ago. "Such a Blessing to be at Alliance Bible Fellowship for Sunday Worship Service this morning in North Carolina with @Franklin_Graham. It was a Joy to be back in Church! Thank you to Pastor Andrews & Everyone for their warm welcome & prayers! America is a Nation of Faith! 🇺🇸 " He tweeted 4days ago.