Nigeria's topmost reliable Property Company, Perfection Real Estate Group fulfils and satisfies its teaming clients by embarking on land allotment towards actualizing their wish of becoming a land owner in a choice location at Ibeju Lekki Phase 2.
Perfection Real Estate Group, a name synonymous to customer satisfaction under the leadership of an amiable Real Estate Entrepreneur, Mr Niyi Adeleye is truly owning up to its name "Perfection" in the Real Estate business.
About 25 Families from diverse ethnic backgrounds were Beneficiaries of the 2nd batch Land allotment at Perfection Real Estate Phase 2 which is a stone throw from LA Campagne Tropicana and Dangote Refinary.
While Delivering his welcome address, Mr Adeleye emphasized that Perfection Real Estate Group Primary focus is to create an opportunity where Nigerians can live well, invest in Real Estate with over 100% money back guarantee and enjoy life at ease. The lands allotted are all been plotted and identified with valid documents, you will get value for your investments in any of Perfection Real Estate Group business opportunities. It is a bold step taking for generations to come, because it's a wise decision to invest now and reap bountifully in the near future.
Engr. Olusegun Oludayo who is the project director also used the medium to call on discerning Nigerians to key into the Perfection Real Estate group multiple and advantageous business opportunity of investing for over 100% money back.
The events which witnessed the presence of Oba Ogunbekun Olumuyiwa, Onilekki of Lekki Kingdom represented by Prince Bamidele Ogunbekun the personal assistant and chief of staff to Onilekki who admonished investors to always partner with genuine Real Estate Company like Perfection Real Estate Group that's well known to the Royalty and Indigene of Lekki Kingdom for a good business deal without skirmishes.
Also present at the occasion, the Iyalode of lekki kingdom, Chief (Mrs) Seriki who took time to usher prayers on the Allotess, guests, Board Members and staff of Perfection Real Estate group.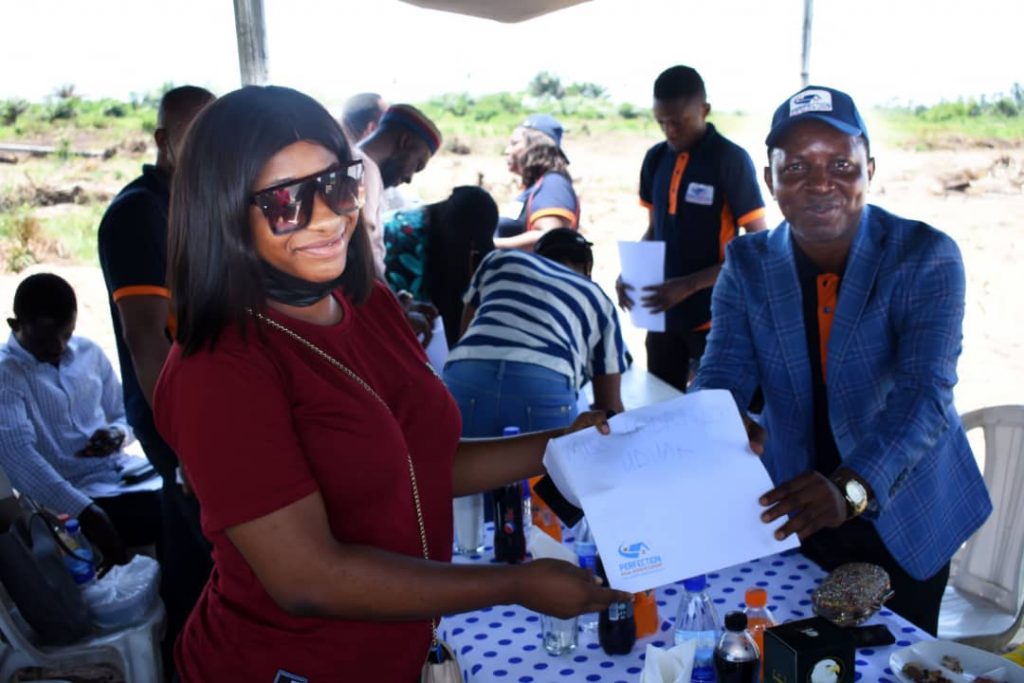 The Director Business Relations of Perfection Real Estate group, Mrs Tinu 'Layeni took time to roll out all the exceptional Home Ownership and Real Estate Income Opportunities while increasing customers net Worth and the very rare privilege to become a Real Estate Investor through Perfection Real Estate Group's properties located at
-Ibeju Lekki Phase 1&2 Lagos
-Oriba Ibeju Lekki, Lagos
-Egolima District Festac Phase 2,Lagos
-Majidun/Agric Ikorodu, Lagos
-Siun, Ogun State
-Owerri, Imo State
Others Upcoming at Abuja, Ibadan, Asaba, Awka, Enugu, Calabar, Uyo etc.
The Director Business Relations also threw more lights on Perfection Real Estate group, its products and services.
PERFECTION REAL ESTATE GROUP LAUNCHES OWN-TO-RENT REAL ESTATE INVESTMENT OFFER.
Perfection real estate group is a one-stop real estate consortium that seeks to innovate and provide solutions to the real human problems in the real estate sector.
Our Vision is to empower people through real estate while our mission is to make home ownership and participation in the real estate sector more accessible to Nigerian.
In order to power our vision and mission, we have created some real estate products and services for opportunities and possibilities which enables the average Nigerian to aspire to become a big real estate portfolio holder no matter who they are or the income level.
They are as follows:
REAL ESTATE INVESTMENT OFFERS:
This is aimed at encouraging you to develop a mindset of saving and investing in the real estate sector towards the attainment of financial freedom through real estate wealth.
LAND INVESTMENT OFFERS
This is aimed at encouraging land banking towards a secured future economy and generational wealth transfer.
EXCEPTIONAL HOME OFFERS
This is aimed at making it as easy as possible for you to become a home owner.
AMBASSADORSHIP CERTIFICATION PROGRAM
This is s training, certification and accreditation program aimed at making you a real estate investor, business owner and our Brand Ambassador with streams of active and passive income that increases your economic fortunes and set you on a path to financial freedom through creation, distribution and redistribution of real estate wealth.
REAL ESTATE WEALTH ACADEMY
A real estate capacity development institution aimed at raising real estate entrepreneurs, investors, wealth builders and portfolio holders in one and we provide platform for practice and growth.
THE CONCEPT OF PERFECTION ESTATE
Perfection Estate was conceived in fulfilment of our mission To make Home Ownership and participation in the real estate sector more accessible to Nigerians, we gave birth to PERFECTION ESTATE as a national real estate project which provide opportunities, possibilities and a platform to invest in lands, infrastructure development, building projects, home ownership as well as income generating real estate business system.
THE OWN-TO-RENT REAL ESTATE INVESTMENT OFFER
In line with the fulfillment of all as stated above and to further encourage participation in the real estate sector in form of active investment and property ownership, Perfection Real Estate Group just launched the OWN-TO-RENT REAL ESTATE INVESTMENT OFFER.
This concept is about investing into owning units of our apartments on fractional basis or as a whole (as the case may be) and earn great return in form of rental income there from at PERFECTION ESTATE.
We are kicking off immediately with the development of our 1bedroom apartments at PERFECTION ESTATE Phase 1, Ibeju Lekki which will be fully finished and furnished and made ready for occupation on short-lets to expatriates and other service providers for the industrial and commercial activities emerging in Ibeju Lekki in general.
There will be first class professional hospitality, facility and property managers that will handle the process of provision of excellent hospitality services, facility maintenance and rent collection.
The question now is how does the average Nigerian become a part or whole owner of these units of apartments? This is quite simple as up to eight investors could own one single unit of 1bedroom apartment and share the rental income from that one single unit. In some other cases, an individual investor can invest in more than one unit or better still own a whole unit or more even the entire block of 12 units of 1bedroom apartment and so on.
RETURN ON INVESTMENT
Conservatively speaking, the least an investor will earn from a single unit of investment of N2.5million is N360,000 per annum and in just seven years the principal capital is fully recovered unlike the average of 13years that it takes to recover your capital on normal residential properties in Nigeria.
CAPITAL APPRECIATION
Capital appreciation applies to all investment units because as the value of the main property increases from time to time same applies to investors capital.
TENURE OF OWNERSHIP
The tenure of ownership of your investment is for life except it is realised in form of sale to another party.
HOW CAN I START INVESTING?
A unit of investment is going now for N2.5m (in multiples) and can be spread within 3months.
For further enquiries and details please call or chat our hotlines on 08091111384, 08178917876, 08090229899
Website: www.perfectionrealestategroup.com
Facebook: @perfectionrealestategroup
Instagram: @perfectionrealestategroup
LinkedIn: @perfectionrealestategroup
Twitter: @perfectionreg