The president of the United States of America, Donald Trump has advised the American people not to vote for Biden in his recent tweet earlier today.
President Trump tweeted, "A Biden win would mean the end of Fracking in Pennsylvania, Texas, and everywhere else." He wrote.
The President added, "Millions of jobs would be lost, and Energy prices would soar." @OANN And we would no longer be Energy Independent!!!" He wrote on his Twitter page.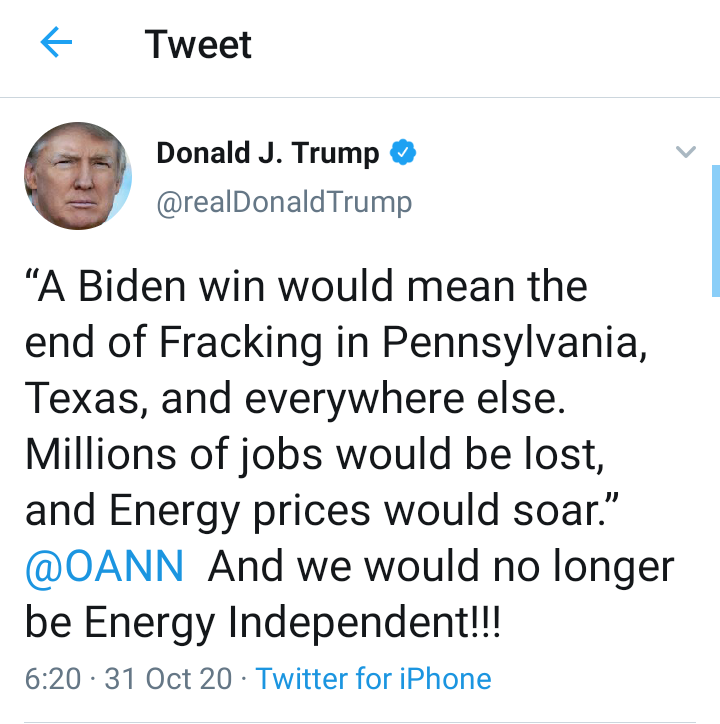 Also adding to his recent tweet some hours ago, the President wrote that the Suburban Women are loving the fact that he (Donald Trump) had terminated the "REGULATION" that would destroy their neighborhood. He also added that Biden would bring back the REGULATION in a much stronger form if voted in.
President Trump wrote, "Suburban Women are trending strongly to our campaign because they want SAFETY, SECURITY, and love the fact that I terminated the REGULATION that would destroy their neighborhood and with it, the American Dream. Biden would bring the REGULATION back in a MUCH stronger form!!!" He tweeted.