A 43-year-old man Mr Ikechukwu Ekenta was alleged to have raped his 3-year-old daughter on the 28th of April 2020 while wife was in the labor room.
Mr Ikechukwu who hails from Ikeduru- Ogwah, Mbaitolu local government Area of Imo state, was arrested after his 3-year-old daughter Kamsiyochukwu Ekenta narrated her experience to her mother.
According to little Kamsiyochukwu who is just 3years and 10months said, "daddy put his komkom (Penis) inside me (private part) when I was sleeping," she said.
Speaking to professor Dora Akuyili's women development Awka Mrs Uzoamaka Ekenta, narrated how she discovered, she said when she returned from the hospital she noticed her daughter always cried each time she bathed her. Kamsiyochukwu accused her dad after her mother had questioned her.
Mr Ekenta admitted to the crime after wife confronted him but he (husband) denied penetrating, he said he used his finger but after medical examination at the hospital revealed he had penetrated the little child.
According to the wife (Mrs Ekenta) she reported him (husband) to his family but was threatened never to mention to anyone instead.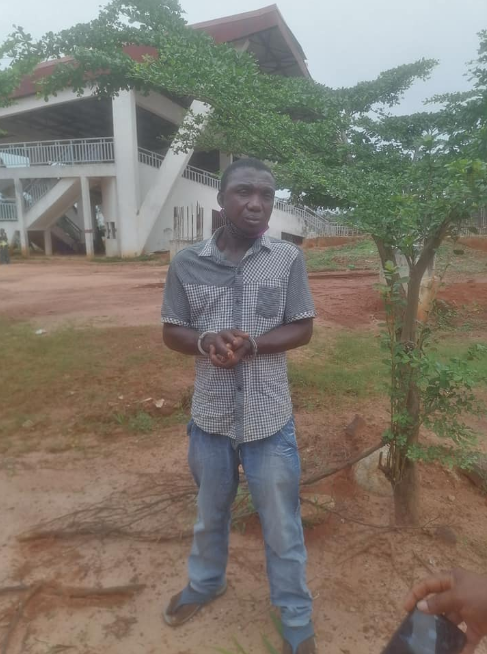 The 43-year-old rapist Ikechukwu Ekenta said he was possessed by evil spirit and whenever the evil spirit comes upon him, he behaves abnormally. According to the accused, he said on the day of the unfortunate incident he used his hand and not his penis to defile his 3years and 10months old daughter when he felt the urge.
However, Lady Ndidi Mezue who is the commissioner for women and children affairs, made a statement condemning the act, says it's abominable in all ramifications.
The commissioner who said after receiving the information through a whistleblower had immediately rushed to the resident of the Ekenta's at 33 area near Onitsha with men of the DSS to apprehend the rapist. She said the little girl is still in serious pain.
Lady Ndidi Mezue promised that justice will be served and Ikechukwu Ekenta would face the full wrath of the law.